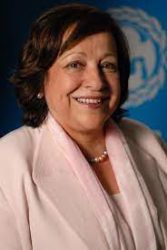 Please join us in congratulating CVG board member, Dr. Rima Salah, the 2021 recipient of the Center for Peace and Conflict Resolution's (CPCR) Peacemaker Award. Housed within Brigham Young University's Law School, CPCR bestows the annual Peacemaker Award to honor prominent peacebuilding leaders.
A world renowned peace advocate, Dr. Salah has provided valuable insight to CVG for the past several years, and is a passionate supporter of the health-based approach to eradicating violence. In her distinguished career with UNICEF, Dr. Salah championed protections for women and children involved with violent conflict. She has been working with CVG to facilitate connections with the UN and UNICEF, exploring the intersections of our collective work toward violence reduction. Dr. Salah, a national of Jordan, is also helping to expand CVG's footprint in the Middle East.
On September 23rd, CPCR hosted their Peacemaker Award and Lecture which should be accessible soon on CPCR's website. Dr. Salah dedicated her acceptance speech to the people who have struggled against war in order to cultivate peace. She referenced her firsthand experiences with victims of violence, people who have been traumatized and displaced, many of them as children. These intolerable injustices, including her own childhood as a refugee, have shaped her mission to help build a world free from violence. 
In her lecture, Dr. Salah directly addressed young people. She encouraged students to lean into their responsibility, to challenge institutions, and to activate their conflict resolution skills in order to foster peace. Cure Violence work, which focuses heavily on youth conflict, strives to spread those same community norms. Dr. Salah reminds us that it is on all of us to bear the weight of injustice. Her efforts serve as an important learning opportunity for other budding peace advocates.
The Peacemaker Award adds to Dr. Salah's collection of awards of distinction, including Vietnam's Medal for the Protection of Care and Children and the French Legion of Honor. CVG is fortunate to have the guidance and counsel of such an invaluable changemaker on its board. As Dr. Salah reminds us, "the time is now" to dedicate ourselves to interrupting violence and transforming communities so that they may thrive peacefully.